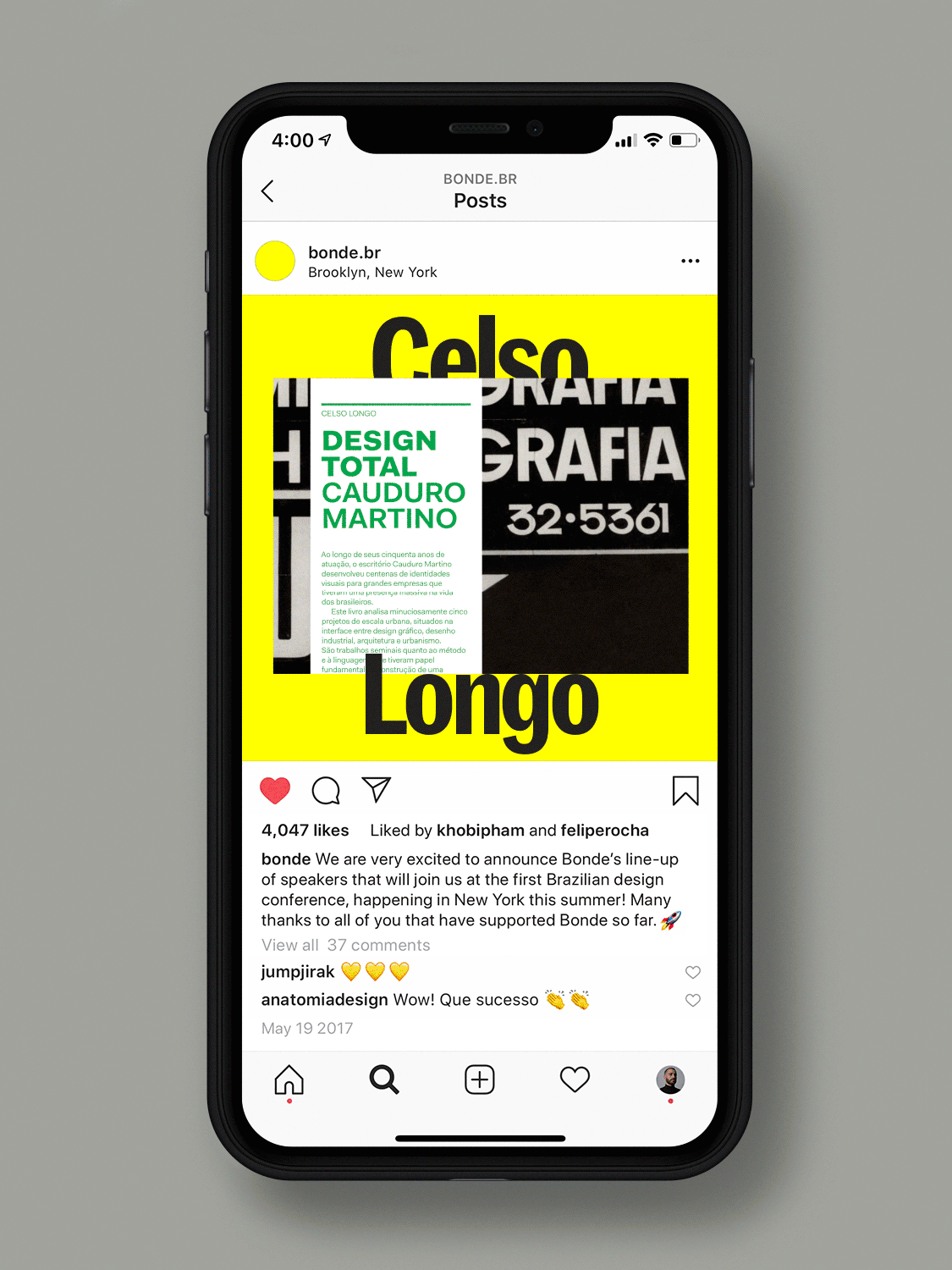 Project Information
Bonde is a platform dedicated to sharing and celebrating Brazilian art and design. Motivated by the desire to connect Brazilian creatives living in New York, Bonde became the first Brazilian design conference in the United States, bringing together over 350 people, a total of 10 speakers, 80 Brazilian publications and two pop-up exhibitions to a global stage.
Through Bonde, we hope to draw attention to Brazil's many contributions to design while opening up a broader perspective to explore what it could be. Given its numerous cultural influences, it is impossible to pinpoint one singular notion of Brazilian design. By inviting different speakers to share their unique perspectives, we were able to observe correlations and divergences between them, helping further expand that definition. Our final lineup of speakers included a wide range of design-practitioners, including names like Marina Willer, a partner at Pentagram; Jonathas de Andrade, a fine artist who uses graphic design as a medium to discuss contemporary Brazilian subjects; Barbara Soalheiro, a writer who is challenging the design process through her new method of working; and Zéh Palito & Rimon Guimarães, a duo that has traveled the world painting murals including their most recent project at refugee camps in Syria.
The name Bonde was taken from the Portuguese word which translates as "tram", alluding to the connections between different places. Today, "bonde" is more frequently used as a colloquial term that refers to a "crew" or a collective. With that in mind, our goal with the design of Bonde was to create an identity that conjured an instinctive sense of Brazilianness without reverting to the usual cliches that tend to be super colorful, tropical or ornate. Since Bonde's primary objective is to showcase design first and foremost, the identity was constructed not to overshadow the featured work. Instead, it evokes a complementary playfulness with the now iconic Bonde yellow (drawn from the classic color of the trams) pervading all stretches of the identity, making it immediately recognizable.
The typeface, Marr Sans Condensed, elicits a tangible sense of Brazilian nostalgia. While difficult to pinpoint the precise origins of this feeling, the visual familiarity may be traced back to the typographic vernacular of old Brazilian editorial design such as newspaper ads, street pamphlets and magazines. Through Bonde's collaborative and inherently Brazilian approach, participants not only provide continuous perspectives on what Brazilian design constitutes right now but perhaps even more importantly, continue to question what it could be.
Since its inception in 2017, Bonde continues to share and spotlight new Brazilian talent through @bonde.br, fostering a space that initiates dialogues, collaborations and recruitment opportunities between creative individuals and the industry. A proponent for the importance of diversity in design, Bonde's engaged audience includes designers, artists and enthusiasts alike, amassing a loyal following on Instagram where the community continues to thrive.
Credits
Design, Curation:
Felipe Rocha, Leo Porto
Production:
Felipe Rocha, Leo Porto, Helene Hermes, Elisa Gijsen, Josh Burgess
Set Design:
Elisa Gisjen, Leanne Tran
Furniture:
Matter
Website Development:
Daniel Coronel
Motion Design:
Luke Guyer
Photography:
Hick Duarte, Mari Juliano
MC:
Luiza Dale
Pop-up Shop Curation:
Gabriel Finotti
Speakers:
Marina Willer, Jonathas de Andrade, Celso Longo, Marcelo Rosenbaum, Barbara Soalheiro, Nina Paim, Frederico Duarte, Rimon & Zé Palito and Pedro Sanches
Music:
LSDXOXO, MGSP, Gui Machado
Collaborators:
Fumi Omori, Gabriel Finotti, Emily Simms, Rachel Denti, Alex Cruz, Khoi Pham, Gabriela Namie, Andrés Piza, Samantha Cruz, Geoff Levy, Blake Rutledge, Roberto Martini, Matheus Dick Lee, Rafael Araujo, Rafael Kfouri, Planalto, Celina Arslanian, Antonio Vicentini, Fernando Bittar, Estúdio Lampejo, Christopher Rey Pérez, Jump Jirakaweekul, Samuel Pasquier
Publishers:
Vibrant, Livros Fantasma, Meli-Melo, Pingado, Olhavê, República, Arnold, Sometimes Always, Editora Madalena, Livraria Madalena, Carambaia, Obra Editora, Ubu
Sponsors:
FLAGCX, Collins, Adobe, Commercial Type, Genius, booth.tv
Fonts
􀈽 Download Project Images