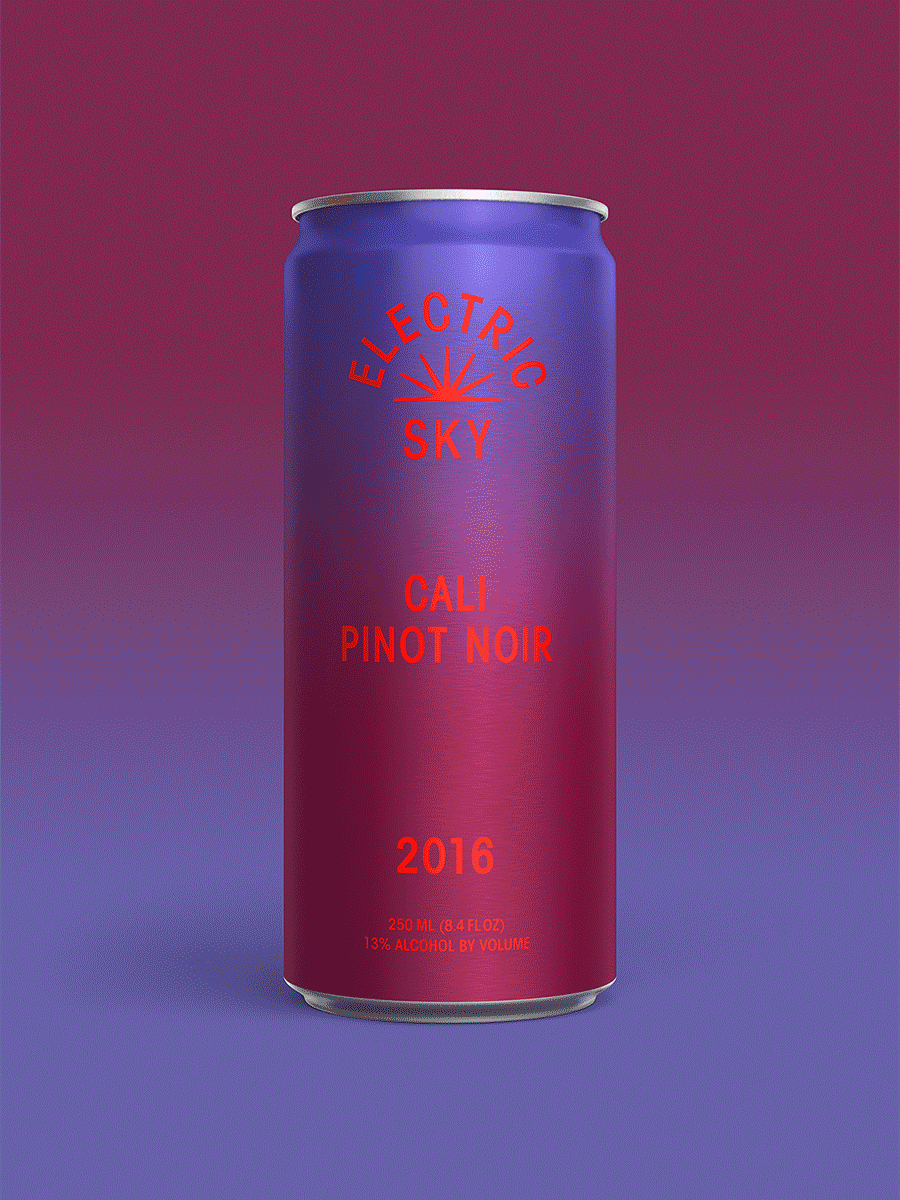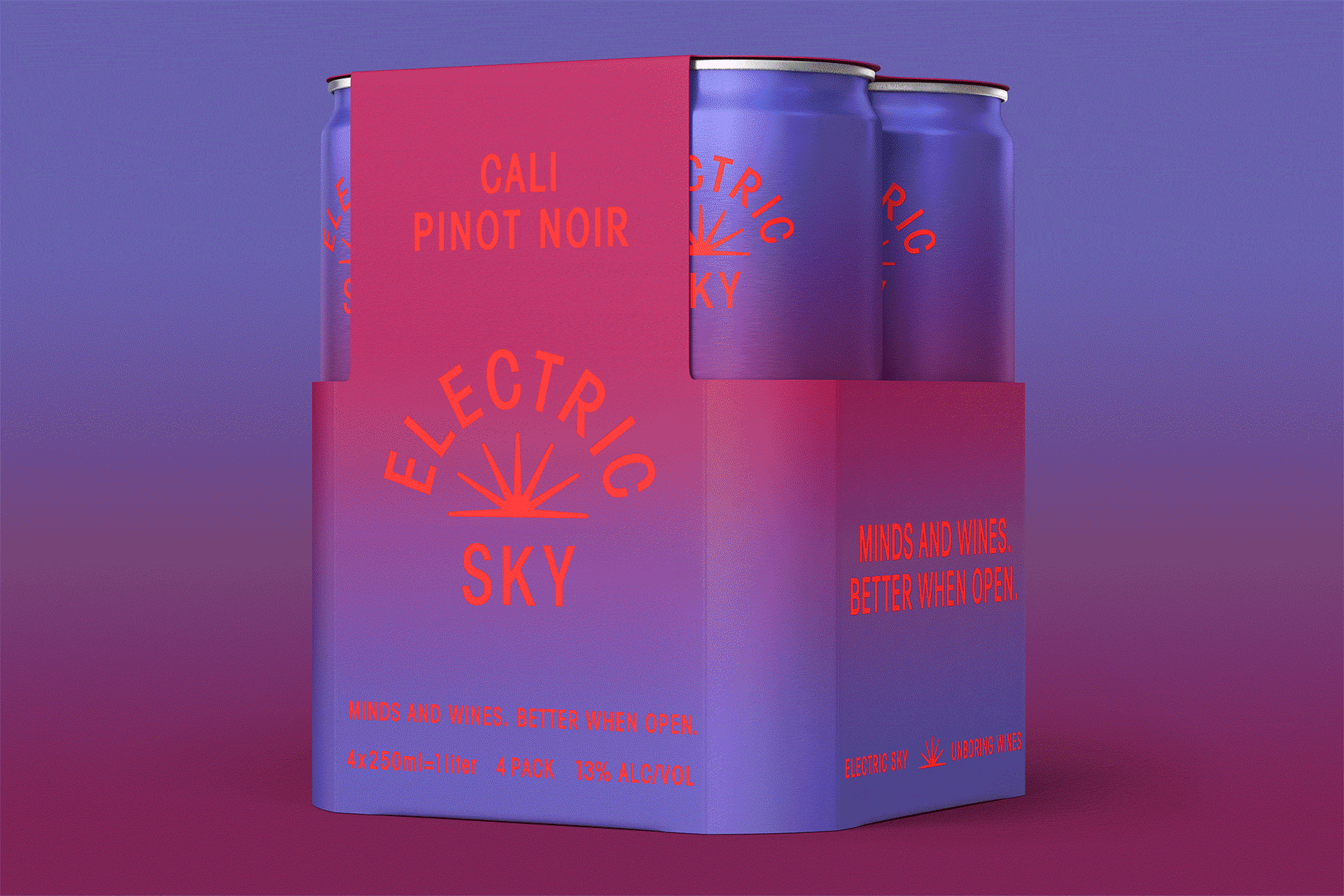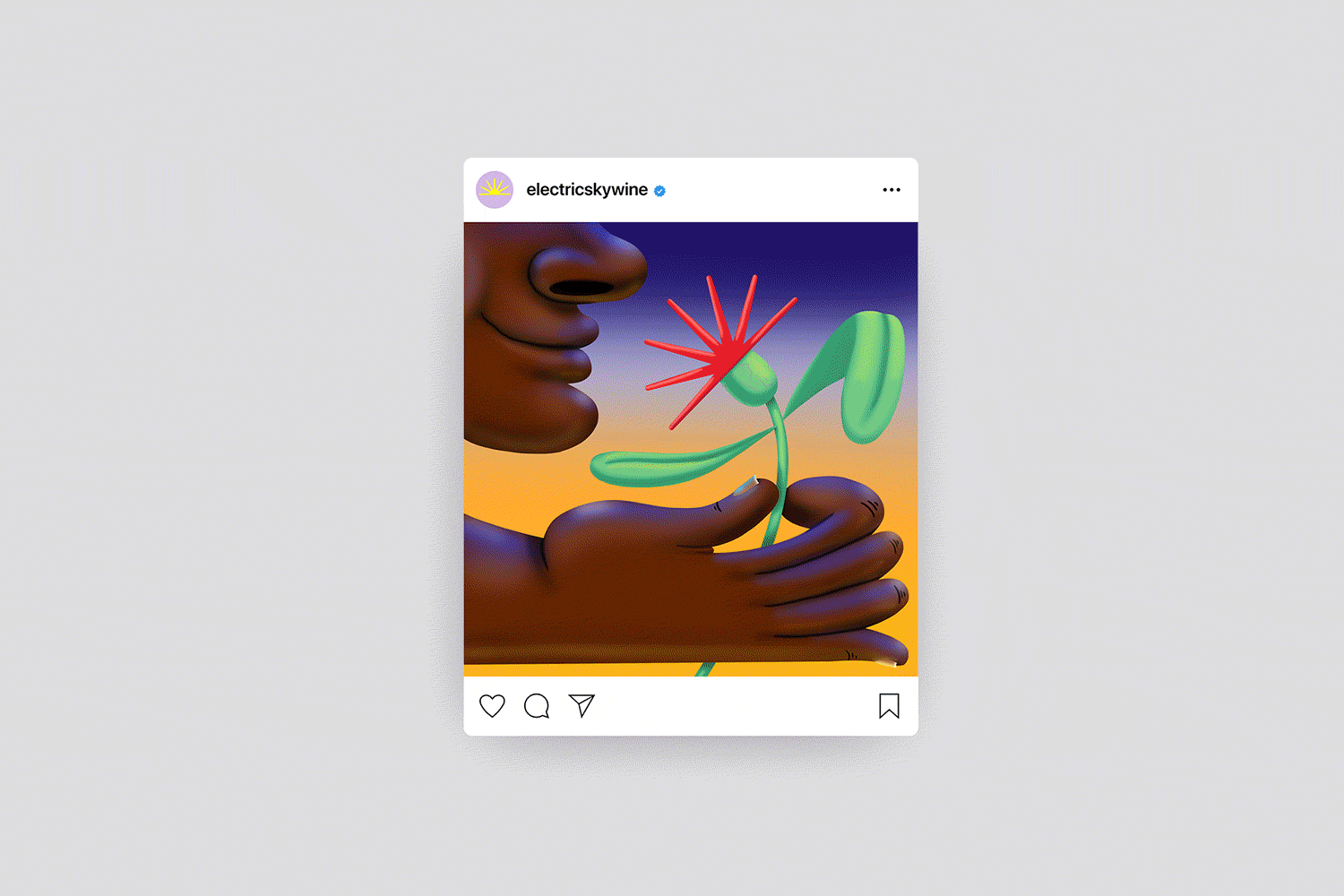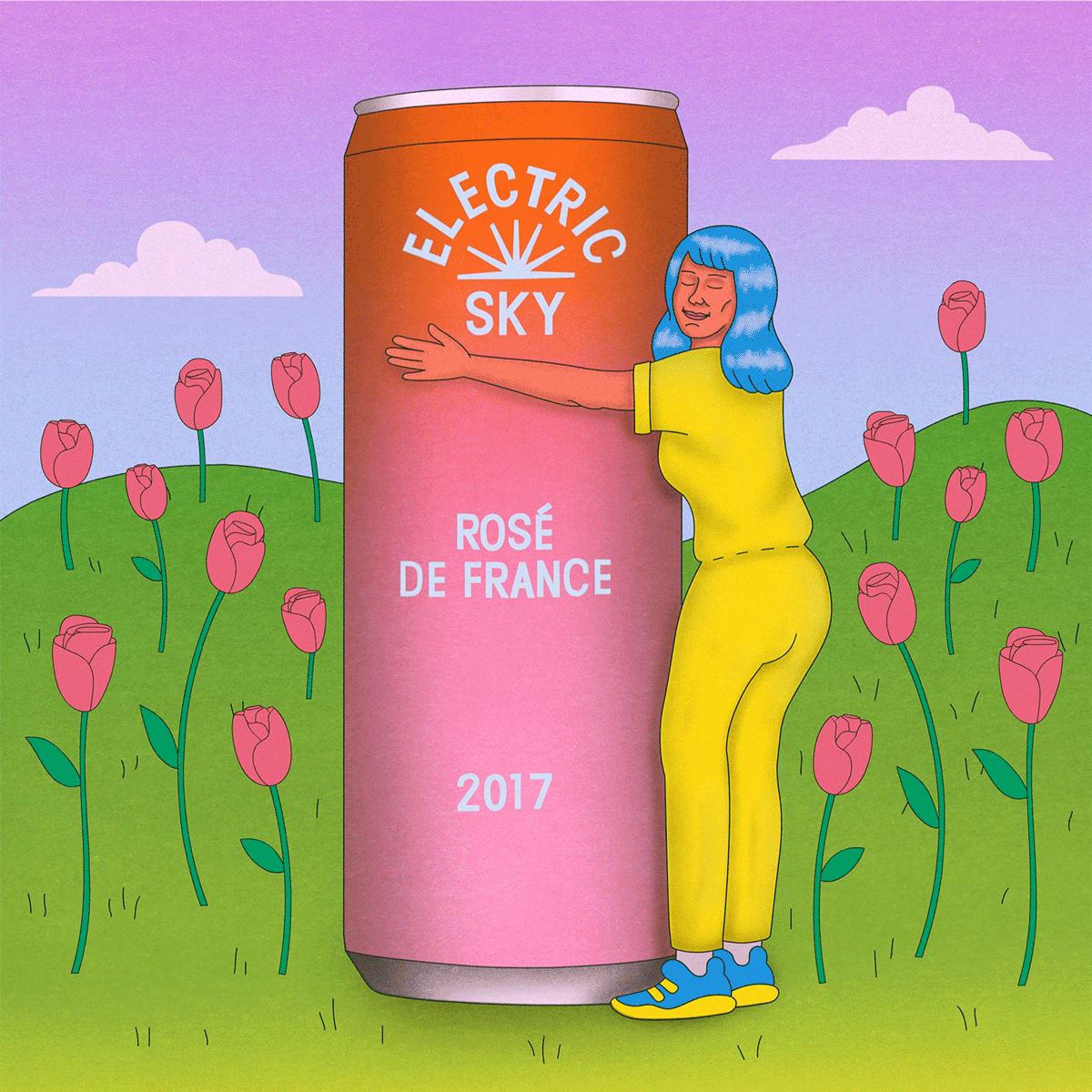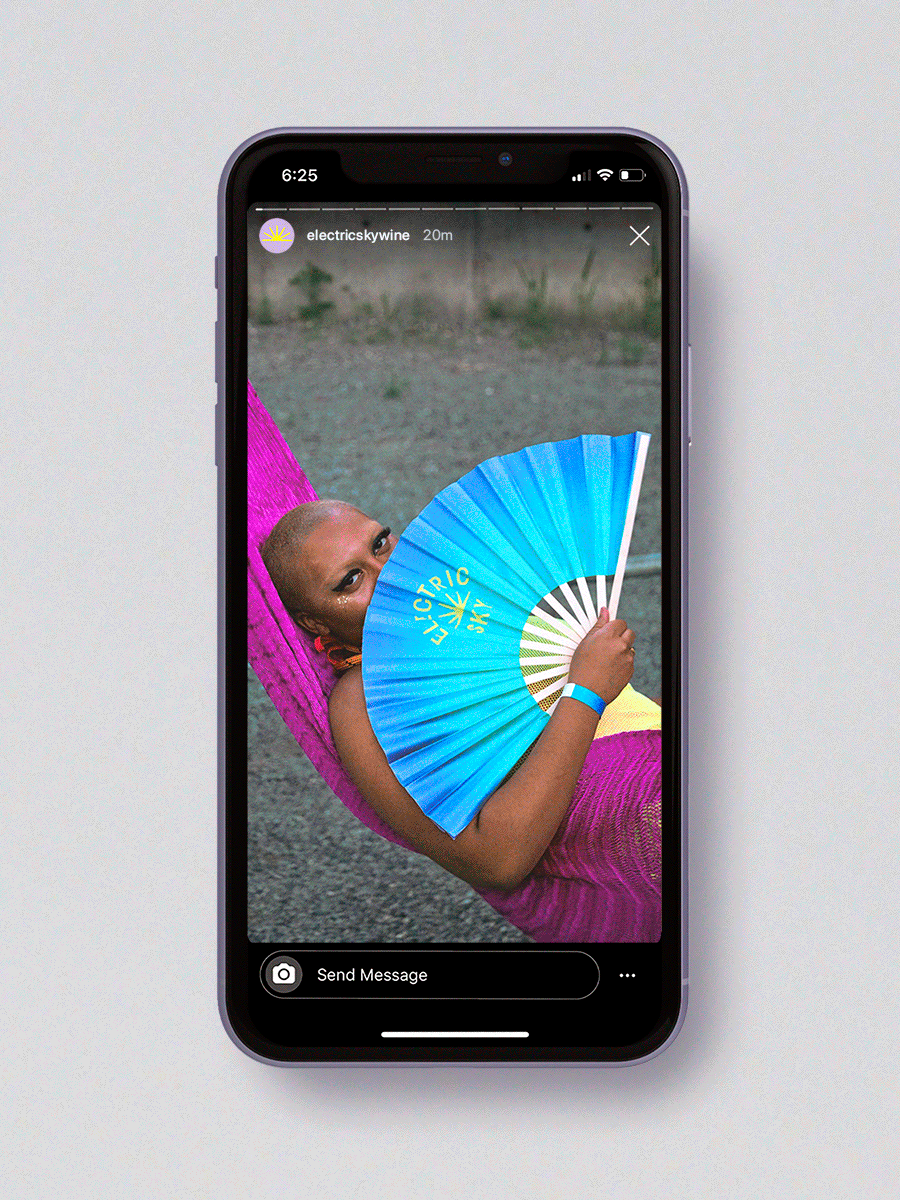 Project Information
Electric Sky is setting out to challenge conventions as Los Angeles' new wine brand. Kicking back against more traditional wine practices that are often formal and exclusive, Electric Sky offers new ways to enjoy wine more casually, showing that there is no right or wrong way to drink wine. Available in cans, 4-packs and bottles, Electric Sky presents itself as a suitable option for any occasion and any lifestyle, encouraging the idea that liberation leads to life's best experiences.
Building upon the research and strategy work conducted by our friends at YÖNE, we repositioned Electric Sky as an alternative to the saturated market of "well-behaved" wine brands through a comprehensive rebrand that included a new packaging system, website design and integrated retail strategy. Honing in on their energetic yet easygoing LA attitude, the packaging beckons from a distance through its bright colors and "electric gradients" that stand out amongst a sea of muted, traditional wine labels.
While the packaging and its rather flamboyant color combinations are almost impossible to miss on a shelf, the use of clean typography and a strong information hierarchy make Electric Sky easy and intuitive to shop. By sourcing their wines from a range of renowned wineries around the world, the choice of Avant Garde Condensed from 1974 helps denote a similar sense of establishment and timelessness, merging the old and new.
The freeflow of gradients reflect Electric Sky's own non-binary values which exist outside of a "yes or no" and "right or wrong" structure. Tied together with a new sun symbol that rises or sets depending on your perspective, each sip of Electric Sky conjures a sunny California day and the wild landscape of colors as day turns to night and night back to day.
The system was designed to enable ultimate flexibility, behaving much like a living organism and allowing the brand to evolve and adapt at the speed of culture itself. This multi-faceted approach to developing Electric Sky's identity included a collaborative effort, bringing together different creative minds to experiment and reinterpret the brand as it came to life. Among some of the many collaborators are artists Ben Sanders and KangHee Kim, photographers Luca Venter and Corey Olsen, illustrators Paul Windle and Kenesha Sneed, as well as musician Leven Kali. Building on the sense of unity that is central to their identity, Electric Sky quickly began cultivating an engaging community around the brand, resulting in collaborations with personalities like comedian Catherine Cohen, drag performer Charlene Incarnate and sponsorships of Pride in LA and MoMA PS1 in New York.
Though Electric Sky put its energy on pause weeks before officially launching in New York, its radical sense of joy and liberation continues to live on. (We hope to see you again soon!)