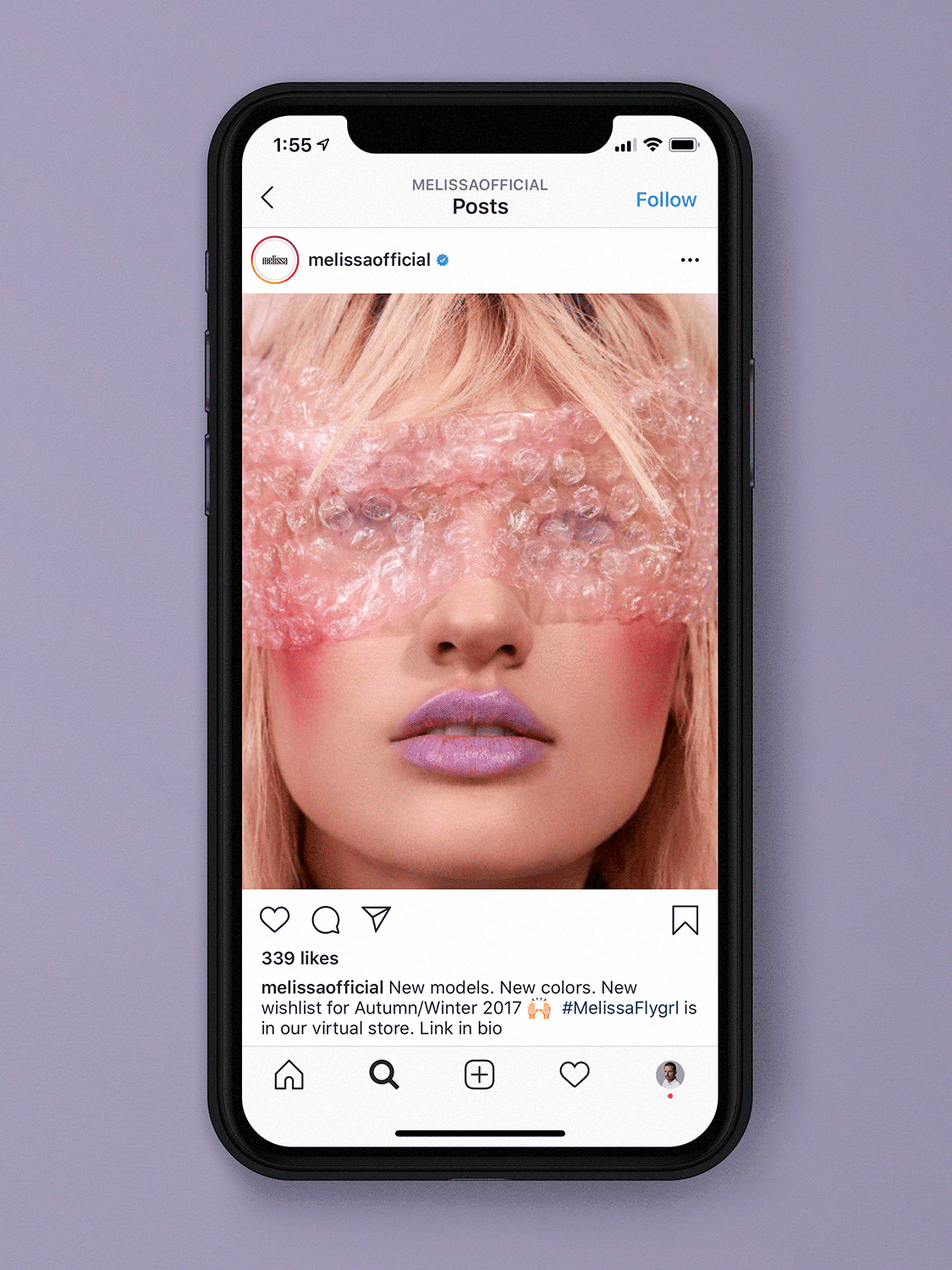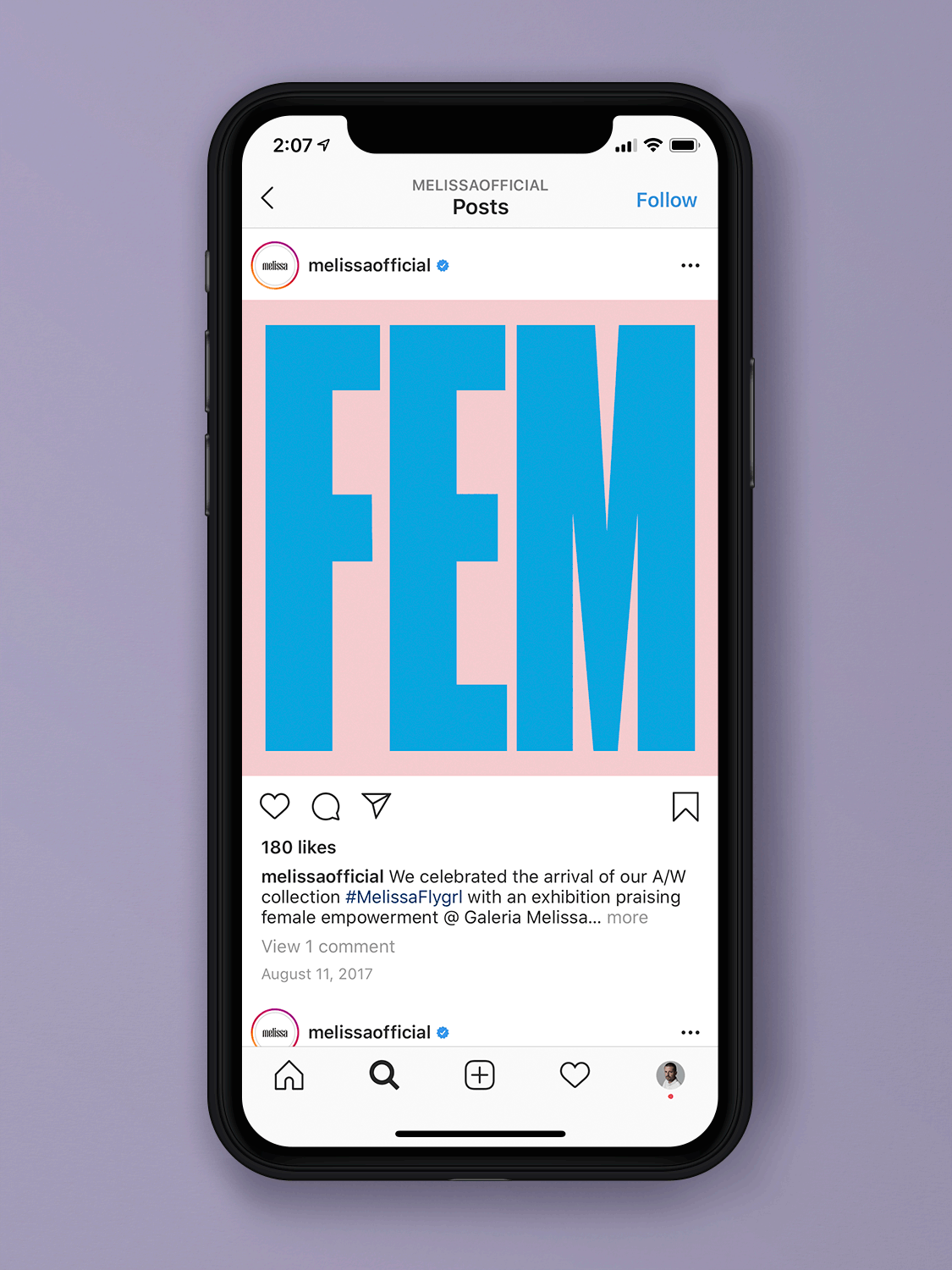 Project Information
We were invited to design the visual identity of Melissa's Autumn/Winter '17 collection "Flygrl". As one of Brazil's most well-known and beloved shoe brands with a trajectory spanning multiple generations, Melissa has always been at the forefront of pushing boundaries and cultivating community around contemporary ideas. Motivated by the desire to inspire girls to continue breaking out of prescribed gendered molds, Melissa launched the highly anticipated Flygrl collection through a progressive campaign that encourages all girls and women to "fly with freedom".
The collection's visual identity was developed to showcase a diverse spectrum of self-expression, whether it be traditionally "feminine", gender neutral, irreverent, "tomboy" or anything in between. Flygrl presents an exciting opportunity to uplift less visible perspectives and possibilities, especially given Melissa's wide reach across the entirety of Brazil, from its major cities to tiny towns. We vitalized this sense of liberation by juxtaposing elements that do not typically belong together, creating a sense of tension and contrast through a strong visual language that permeated all aspects of the campaign including e-commerce, social media and their own magazine.
To reflect the free-spirited nature of Flygrls who shatter preconceptions both inside and outside of fashion, this opposing yet complementary visual language was specifically designed to clash. Inspired by the idea of "radical softness as a weapon", coined by artist Lora Manthis, concrete fixtures press against pastel-colored foam, cursive calligraphy collides with punchy letterforms and baby pink meets muddy brown. These elements work together to symbolize the ways in which unapologetically expressing your emotions can be reframed as a source of strength, explored and manifested through the Flygrls' self-defined styles.
Drawing inspiration from the typographic vernacular of protest posters, the font Druk Condensed was used to create an expressive yet intuitive type-layout system, allowing for both impactful headlines as well as widespread flexibility as the design was implemented across Melissa's global markets.
Besides the identity itself, we also worked on defining the creative direction for the campaign's photography and set design. Shot by Gil Inoue and styled by Renata Correa, the campaign features sharp, graphic gestures and compositions that allow the products and each of the Flygrls to shine confidently. As an extension of the rest of the identity, the set design plays again with duality by juxtaposing rough materials such as bricks and fences against a backdrop of dewey, pastel colors, bringing the multi-layered Flygrl universe to life. Reaching a large audience through hundreds of stores worldwide, the campaign also encapsulated custom packaging, in-store signage, window displays and even a 1,100 square foot typographic installation at their flagship store in São Paulo.
As part of the campaign, Melissa recruited different women from around the world to share their stories, capturing and celebrating the Flygrl spirit. Among the list of collaborators were photographer Renell Medrano from the United States, artist Priscila Fernandes from Brazil and actress Dian Sastrowardoyo from Indonesia. Through harnessing an extensive collection of juxtapositional elements rooted in "flying with freedom", the result is an ongoing catalogue of unexpected combinations — much like the multitudinous Flygrls themselves, constructing their own identities and their own self-defined worlds.